I have published a the first part of the revamped Tales from the Best Buy Incident. Join Bill as he discovers the pleasure of watching his hot wife with other men!
You can pick it up here! And, of course, I offer it free to my fans if you chose to!
Regular Price: $1.99
50% off with FX22U coupon at checkout
100% off with AB85P coupon at checkout.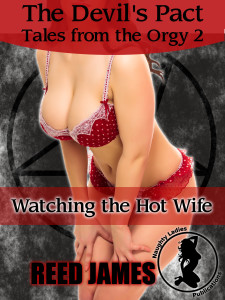 A husband discovers the humiliating pleasure of watching his wife with other guys!
After Bill and his wife Erin were caught up in the Best Buy Orgy, Bill can't get the image of his wife gasping and moaning as she was taken hard by man after man. Despite how humiliating it is to watch his wife enjoys other men, he's eager for more.
And Erin is eager to indulge.
Bill's desires culminate with him hiding naked in his closet, waiting for his wife to bring home her latest lover. Bill has a front row seat to his wife being nailed hard by a handsome stud!
Watching the Hot Wife is a 6600 word mind control, hot wife, wife watching, sloppy seconds, cuckold, voyeurism erotica!






by





by