I have published part 2 of Devil's Pact: The Naked Jogging Club. This is only an overhaul of the second section of The Devil's Pact Side-Story: The Naked Jogging Club.
You can pick it up here! And, of course, I offer it free to my fans if you choose!
Regular Price: $0.99
100% off with HU26W coupon at checkout.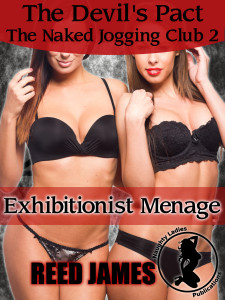 Madeleine's morning jog is about to turn naughty!
When Madeleine, a sexy MILF, sets out on her run, she has no idea the sexy acts she would commit. When she comes across Mark and Anastasia jogging naked down the road, Madeleine is unable to resits Mark's command.
Lust suddenly burning inside her, Madeleine bares her mature, hot body for all to see, joining Mark's Naked Jogging Club. But the real fun will begin when the jog ends, and Mark enjoys both his jogging sex slaves.
Madeline can't wait to submit to Mark's lusts right on her doorstep for all to see!
Exhibitionist Menage is a 3000 word exhibitionism, mind control, domination, submission, menage, public sex erotica! This deviant tale is not for the faint at heart!
A story of The Devil's Pact Universe!






by





by