I have published the tenth part of the Devil's Pact on Smashword just now!
You can purchase it here! I have several price options for my fans that will only be found here on this blog! Pay what you feel is appropriate or just pick it up for free! This part covers Chapter Thirteen and Side-Story: Sexting. There are new scenes and much of the chapter was cleaned up and rewritten.
I would love feedback. If you don't want to leave reviews at Smashword (which I would really appreciate!!!) then please comment on this post and let me know what you think of the changes.
Regular Price: $2.99
33% off: $1.99 with YL66E coupon at checkout.
66% off: $0.99 with RM39F coupon at checkout.
100% off: Free with RA52Q coupon at checkout.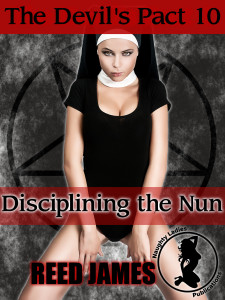 Mark and Mary discipline the nun that tried to steal their powers!
Sister Louise Afra failed to exorcise Mark and break his Pact with the Devil. Now she's his prisoner, punished for the hurt and pain her attacks caused. The punishment and humiliation will continue until she breaks and begs to Mark's sex slave.
She tries to fight it, but her spirits cracks even as her body begins to enjoy the molestation and degradation.
While Mark and Mary discipline the nun, Mark's enemies prowl in the shadows, looking for ways to take him down. Brandon Fitzsimmons, freed from Mark's control, plots with Doug Allard to defeat Mark and reclaim his stolen wife Desiree. The FBI is hot on Mark's trail, and a sexy, ambitious reporter has caught the scent of a juicy story.
And in California, Sister Theodora has received the Ecstasy. She plans to succeed where Mark failed.
Disciplining the Nun is a 21000 word harem, BDSM, spanking, sex toy, strap-on, oral sex, anal sex, discipline, humiliation, watersports erotica that is not for the faint at heart!






by





by