I have published the sixteenth part of the Devil's Pact on Smashword just now!
You can purchase it here! I have several price options for my fans that will only be found here on this blog! Pay what you feel is appropriate or just pick it up for free! This part covers all but the end Chapter 18 and the Side-Story: Mark Goes Back to School. There are new scenes and much of the original material was cleaned up and rewritten, bringing it to 32,000 words, the longest part yet.
I would love feedback. If you don't want to leave reviews at Smashword (which I would really appreciate!!!) then please comment on this post and let me know what you think of the changes.
Regular Price: $2.99
33% off: $1.99 with PA22E coupon at checkout.
66% off: $0.99 with WG23U coupon at checkout.
100% off: Free with GZ23A coupon at checkout.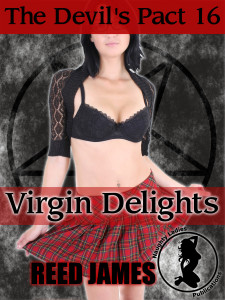 Mark heads to the local community college to find a pair of virgins!
Mark and Mary need a pair of virgins for a spell, so Mark heads back to school. At a community college, Mark revels in all the young, nubile flesh as he hunts for the two virgins. With his mind control powers, no one can resist his perverse desires.
While Mark has his fun, Mary runs a few errands. When she meets a conservative, religious woman, Mary can't resist seducing her into lesbian sin!
As Mark and Mary play, Noel, one of their servants, works to protect her Masters from a new enemy. A rival demon wants to disrupt the Devil's plans by killing Mark! Can Noel protect her Masters?
Virgin Delights is 32,000 word mind control, harem, domination, submission, orgy, college, first time, virgin, oral, anal, waterspouts, taboo erotica that is not for the faint at heart!






by





by