I have published the eighteenth part of the Devil's Pact on Smashword just now!
You can purchase it here! I have several price options for my fans that will only be found here on this blog! Pay what you feel is appropriate or just pick it up for free! This part covers chapter 20. There are new scenes and much of the original material was cleaned up and rewritten, bringing it to 30,000 words.
I would love feedback. If you don't want to leave reviews at Smashword (which I would really appreciate!!!) then please comment on this post and let me know what you think of the changes.
Regular Price: $2.99
33% off: $1.99 with CG37Z coupon at checkout.
66% off: $0.99 with KE83U coupon at checkout.
100% off: Free with EP63N coupon at checkout.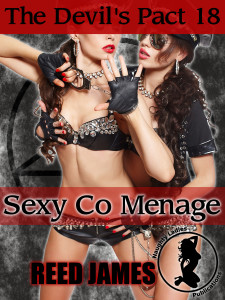 Mark and Mary hold naughty tryouts for a cadre of sexy cops for their bodyguard!
Mark's growing power has made enemies, and he wants a bevy of sexy women to protect him. Thanks to his power, he's gathered sexy cops. These nubile women will compete to join Mark's bodyguard, showing off their bodies. These sexy women will get down and dirty to please Mark!
Mark, Mary, and their sex slaves revel in all the feminine flesh!
Sexy Cop Menage is a 30,000 word mind control, harem, sex slave, taboo, forbidden passion, menage, lesbian, oral, anal, domination, submission, exhibitionism, voyeurism erotica! This hot tale is not for the faint at heart.






by





by