I have published the twenty-fourth part of the Devil's Pact on Smashword just now!
You can purchase it here! I have several price options for my fans that will only be found here on this blog! Pay what you feel is appropriate or just pick it up for free! This part covers half of Chapter 27 and Rachel's Honeymoon Chapter 1. There are new scenes and much of the original material was cleaned up and rewritten, bringing it to 23,000 words.
I would love feedback. If you don't want to leave reviews at Smashword (which I would really appreciate!!!) then please comment on this post and let me know what you think of the changes.
Regular Price: $2.99
33% off: $1.99 with QU45N coupon at checkout.
66% off: $0.99 with LY48H coupon at checkout.
100% off: Free with AU85C coupon at checkout.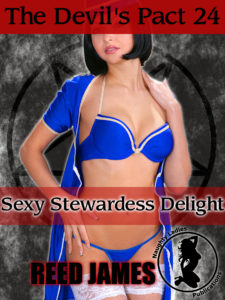 Mark and Mary head to New York City and enjoy a pair of sexy, married stewardesses!
Mark and Mary fly on their private jet to New York City, serviced by a the sexy Monique and her sultry friend Lize. The two married women are eager to cater to Mark and Mary with their nubile body and busty charms. And more naughty fun awaits Mark and Mary in New York City when they come across a young bride on her honeymoon.
Mark and Mary can't resist enjoying the bride!
But Mark and Mary's enemies maneuver in the darkness. Brandon Fitzsimmons hunts for the same book to gain the power to destroy Mark. In France, Brandon comes face to face with the Mother Superior of the nuns warring against Mark.
Sexy Stewardess Delight is a 24,000 word mind control, harem, domination, submission, oral, anal, creampie, menage, hot wife, bride, cuckold, rimming, stewardess, supernatural erotica that is not for the faint at heart.






by





by