I have published the thirty-first part of the Devil's Pact on Smashword just now!
You can purchase it here! I have several price options for my fans that will only be found here on this blog! Pay what you feel is appropriate or just pick it up for free! This part covers half of Chapter 32 (the wedding) and other half of Alison and Desiree Gets Married. There are many new scenes and much of the original material was cleaned up and rewritten, bringing it to 27,000 words.
I would love feedback. If you don't want to leave reviews at Smashword (which I would really appreciate!!!) then please comment on this post and let me know what you think of the changes.
Regular Price: $2.99
33% off: $1.99 with YJ98V coupon at checkout.
66% off: $0.99 with SN67C coupon at checkout.
100% off: Free with DP72M coupon at checkout.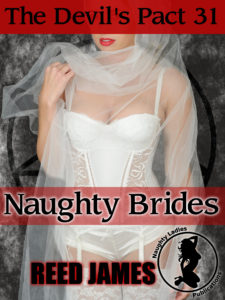 Mary, Alison, and Desiree are eager to be naughty brides at their weddings!
The women around Mark are burning with matrimony. Alison and Desiree are eager for their wedding, the two sluts dripping with excitement. Especially with the new, naughty marriage rituals of the Living Church.
Before all, Desiree and Alison are taken hard in their wedding gowns by Mark and Mary.
But theirs isn't the only upcoming wedding. Mark and Mary ready to finally take the plunge themselves. And it will be one wild reception. With their mind control powers, the couple plan to have one naughty wedding!
Naughty Brides is a 27,000 word mind control, domination/submission, oral, creampie, menage, anal, public sex, exhibitionism, voyeurism, hot wife, bride, lactation, adult nursing, futa-on-female erotica that is not for the faint of heart!






by





by