I have published the third part of the Devil's Pact on Smashword just now!
You can purchase it here! I have several price options for my fans that will only be found here on this blog! Pay what you feel is appropriate or just pick it up for free! This part covers chapters four and part of chapter five of the original story with two new scenes featuring Sister Mariam Theodore.
Regular Price: $2.99
33% off: $1.99 with TY89T coupon at checkout.
66% off: $0.99 with RF52Z coupon at checkout.
100% off: Free with VD77U coupon at checkout.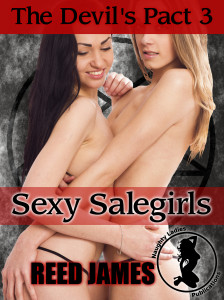 Mark wished for the power to control people with his words. What he commands, they have to obey. He had dreams of experiencing all the pleasures the beautiful women of the world he wanted. He didn't expect to fall in love.
The sweet and sexy redhead Mary bewitched his heart.
Now the pair of them are having all the fun they can as they wander the mall. Any beautiful woman that catches their eyes become their next plaything. The cute and sultry salesgirls of the mall will have a day they will never forget as Mark and Mary act out their lust, enjoying their supple bodies. Mark's lusts grow, as he revels in the taboo display of a young woman enjoying the love of a forbidden, older woman.
Walking into the middle of this sex-filled mall is the young and horny Alison. She's looking to have some fun at the mall, and Mark and Mary are the most interesting thing going on. She burns to be dominated and submits willingly to Mark's control.
Meanwhile in Arizona, Sister Mariam has been captured by the Warlock Tex and his own harem of mind-controlled women. She has to keep her wits if she wants to escape his clutches.
Sultry Salesgirls is 19,000 word mind control, taboo, public fun erotica that is not for the faint at heart!
If you want coupons for Part One, read this blog post and for Part Two check out this post!






by





by