I have published a brand new Devil's Pact Side-Story. This is only a minor tweak to The Devil's Pact Side-Story: Jonathon's New Wife.
You can pick it up here! And, of course, I offer it free to my fans if you choose!
Regular Price: $0.99
100% off with KC27K coupon at checkout.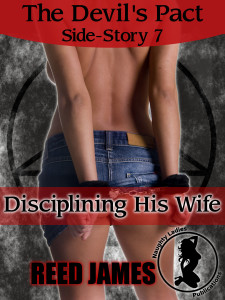 Jonathon's wife has been bad!
When Jonathon received a call from his wife, he had no idea their relationship had changed. Thanks to Mark's mind control, Monica is willing to do whatever filthy, depraved sex act her husband wants.
When he gets home, he discovers that his wife is as willing as he had been told. And she brought a friend. Sexy Kylie waits upstairs. But when Jonathon learns all the naughty things his wife has been up to, he has to discipline her!
Disciplining the Wife is a 4600 word bondage, spanking, menage, hot wife, mind control erotica that is not for the faint at heart!
A story of the Devil's Pact Universe!






by





by