I have published a brand new side-story. This short tale hasn't ever been published before. It takes place during The Devil's Pact Part 9: Submissive Healing. What happened after Mark and Mary went to the hospital? Lots of sex!
You can pick it up here! And, of course, I offer it free to my fans if you choose!
Regular Price: $0.99
100% off with TN65F coupon at checkout.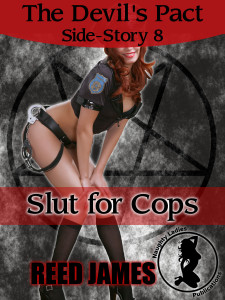 Officer Chan is about to have the greatest night as a cop!
Mark Glassner, a man with mind control powers, has just ordered his harem to service the boys in blue. His hot women are horny sluts eager to please the hunky cops.
And Officer Chan has his eyes sat on Chasity Vinter. Chasity is a blonde goddess serving on the force with Officer Chan. Every cop in the department has lusted after her curvy body.
And now she's one of Mark's sex slaves, and she more than eager to spread her thighs for her fellow officer.
Slut for Cops is a 2700 word mind control, harem, Domination/submission, sex slave, cop, orgy, anal, oral, creampie erotica that is not for the faint at heart!
A story of the Devil's Pact Universe!






by





by