I have published a the first part of the revamped Tales from the Best Buy Incident. Join Kristi as she adjusts to the new changes in her lesbian wife Ashley!
You can pick it up here! And, of course, I offer it free to my fans if you chose to!
Regular Price: $1.99
50% off with RG92C coupon at checkout
100% off with MR59A coupon at checkout.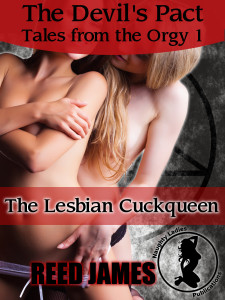 A lesbian discovers her wife is cheating on her with a man!
Kristi struggles to deal with the changes to her lesbian wife after the orgy at the Buy Best. Ashley, Kristi's wife, was caught up in Mark's fun. In the aftermath, Kristi discovers her wife has been forever changed.
But Kristi is not prepared for the changes when she comes home from work early and catches Ashley cheating on her with a man! Kristi wants to look away, but the sight of her wife riding the man sends a hot, shameful flutter through her.
Kristi discovers the thrill of being a cuckqueen!
The Lesbian Cuckqueen is a 6500 word word mind control, lesbian, oral, voyeurism, masturbation, creampie, cuckqueen, cheating, hot wife erotica that is not for the faint at heart.






by





by