I have published the seventeenth part of the Devil's Pact on Smashword just now!
You can purchase it here! I have several price options for my fans that will only be found here on this blog! Pay what you feel is appropriate or just pick it up for free! This part covers the last parts of Chapter 18 and all of Chapter 19. There are new scenes and much of the original material was cleaned up and rewritten, bringing it to 27,000 words, the longest part yet.
I would love feedback. If you don't want to leave reviews at Smashword (which I would really appreciate!!!) then please comment on this post and let me know what you think of the changes.
Regular Price: $2.99
33% off: $1.99 with VN24Y coupon at checkout.
66% off: $0.99 with LE74B coupon at checkout.
100% off: Free with CD53Y coupon at checkout.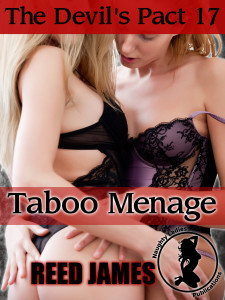 Mary is in for one taboo, forbidden menage with the women closest to her!
All week, Mary has been planning for this night. Those closest to her have come over to meet Mark, her fiance. Little does the youthful Missy and the mature Shannon realize what naughty passion they're in for tonight.
All the rules are broken as Mary, Missy, and Shannon cross taboo lines into screaming passion. And while the ladies play, Mark has his own fun with his naughty sluts!
Taboo Menage is a 27,000 word mind control, harem, sex slave, taboo, forbidden passion, menage, lesbian, oral, anal, domination, submission erotica! This hot tale is not for the faint at heart.






by





by