I have published a brand new Devil's Pact Side-Story. This one has never been published on my blog or any other site.
You can pick it up here! And, of course, I offer it free to my fans if you choose!
Regular Price: $0.99
100% off with SZ56F coupon at checkout.
Mark told Iris she was a whore, a filthy slut that should spread her legs for every man, and she's taken his commands to heart. If you missed out on Part 4 you can get some coupons for it here!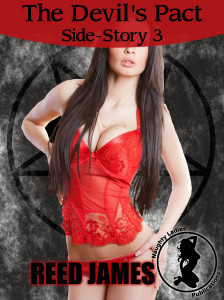 "You're a whore, Iris."
When Iris came to work, she had no idea how her life would change. When she walked into the bathroom and found Mark and his sex slave in the throes of passion, a simple command changed everything. Falling under Mark's spell, she realizes that she is nothing more than a whore.
And she wants to prove it.
Walking out on to the sales floor, Iris flashes her blandishments at Rick as he looks to buy a car. She proves she'll do anything to make a sale to the hunky Army Ranger. And once the test drive's over, she has an entire office full of men that she needs to satisfy!
Iris Whores It Up is a 3600 word prostitution, watersports, menage erotica. Thanks to Mark's off-hand comment, Iris wants to prove she's the filthiest whore ever! This story is not for the faint at heart!






by





by